Contact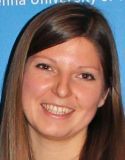 Johanna Grames
grames@waterresources.at
Tel.: +43-1-58801-105385
Centre for Water Resource Systems,
Vienna University of Technology,
Karlsplatz 13/222, A-1040 Vienna, Austria
Publications
Grames, J., Prskawetz, A., Grass, D., Viglione, A., and Blöschl, G. (2016). Modeling the interaction between flooding events and economic growth. Ecological Economics, Volume 129, September 2016, Pages 193-209, ISSN 0921-8009
Johanna Grames
Research Interests
• Socio-hydrology
• Optimization methods
• Impulse control models
• Endogenous economic growth models

Johanna studied mathematics applied to economics at the University of Technology Vienna with a focus on dynamic macroeconomics, environmental economics, population economics and mathematical optimization methods. In her thesis she analyzed economic models of directed technical change including environmental and demographic dynamics.


Key Facts
Johanna obtained her bachelor degree in Technical Mathematics (focus on Economics and Statistics) at the University of Technology, Vienna, in 2011. During her masters study at the same university she focused on mathematical economics and operations research and control theory. She spent one semester abroad at Queensland University of Technology, Brisbane, Australia. After finishing her master studies in Mathematics and Economics, Johanna worked as an analyst at StepChange Consulting 2013-2014 before she joined the Vienna Doctoral Programme in Water Resource Systems in May 2014.