Contact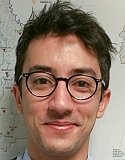 Enrico Bonanno
bonanno@waterresources.at
Centre for Water Resource Systems,
Vienna University of Technology,
Karlsplatz 13/222, A-1040 Vienna, Austria
Enrico Bonanno
Research Interests
• Stream transport
• Hyporheic zone solute exchange
• In-stream hydrology
• Hydrology/hydraulic modeling
Enrico's research field concerns hydrological modeling and field experiments focusing on in-stream transport, hyporheic zone exchange, retention, sorption and decomposition of reactive and non-reactive solutes in a long-term analysis.
Key Facts
Enrico obtained a bachelor degree in Environmental Engineering at Polytechnic University of Bari, in December 2013. During his master degree in Environmental Engineering at the University of Padova he increased his interest in hydraulics and hydrology and he was hosted by EAWAG research centre for a course in statistical hydrology, from May to June 2016. He completed his master degree with a thesis developed in Costa Rica between October 2016 and January 2017 on statistical characterization of streamflow regimes.
He passed the qualifying examination as an Environmental Engineer in September 2017.
In October 2017 he joined the the Doctoral Programme for Water Resource Systems as a joint PhD candidate between TU Vienna and Luxembourg Institute of Science and Technology (LIST) Doctoral Training Unit in Water Sciences: Hydro-CSI (www.list.lu/en/research/project/hydro-csi/). He is in the Water Safety and Security Unit at the Department of Environmental Research and Innovation (ERIN) at LIST (working in the Catchment and Eco-hydrology research group).