Contact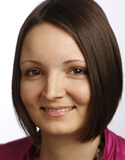 Dr. Katerina Schilling
Knowledge Management and Capacity Building Coordinator, IAWD, Vienna, Austria
Katerina Schilling
Research Interests
• Nutrient fluxes in river basins and catchment based nutrient management
• Foam in the aquatic environment
• Linking biology to river chemistry
• River restoration


Key Facts
Katerina graduated from the Vienna Doctoral Programme in 2011 with a PhD on, "Foam formation on surface waters". Since graduating she has been conducting post-doctoral research at the Institute for Water Quality, Resources and Waste Management in Prof. Matthias Zessner's research group.
She previously obtained a masters degree in Biology with a specialisation on freshwater ecology from the University of Vienna, Austria in November 2003. She then started to work at the Institute for Water Quality, Resources and Waste Management (Vienna University of Technology) in April 2004. She is involved in several projects dealing with surface water and groundwater quality, point source and diffuse pollution and the interaction between water chemistry and biology.

Katerina has attended and presented at national and international conferences. She participated in an intensive course on 'Environmental Risk Management' and in a course on 'Screening Method and Multi-Habitat-Sampling'. Furthermore she does part-time teaching in the 'International Training Programmes in Limnology' (IPGL) as well as 'Education and training course for personnel of wastewater treatment plants'.
From September 2008 to September 2010 Katerina was chair of the Young Water Professional Committee of the International Water Association (IWA) and was member of the IWA Board of Directors. Furthermore she is a member of the management committee of the IWA Specialist Group on Diffuse Pollution.