Contact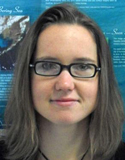 Dr. Marcela Doubková
Earth Observation expert at PESSL Instruments, Weiz, Austria
Publications
Doubková, M., Van Dijk, A.I.J.M., Sabel, D., Wagner, W. and Blöschl, G. 2012. Evaluation of the predicted error of the soil moisture retrieval from C-band SAR by comparison against modelled soil moisture estimates over Australia. Remote Sensing of Environment, 120, 188–196.
Marcela Doubková
Marcela graduated from the Vienna Doctoral Programme in December 2012. Her PhD thesis, "Error characterization methods for surface soil moisture products from remote sensing", aids understanding of ASAR and ASCAT backscatter over land surface. This information of great value in hydrological modelling.
Marcela studied Geography at the Charles University in Prague, Czech Republic, for three years. She then studied at the University of Nebraska-Lincoln (UNL), USA supported by a Paul Robitschek scholarship exchange programme. She received her Master Degree in Geography with specialisation in Cartography, Remote Sensing, and GIS at the University of Nebraska-Lincoln in August 2006. During her studies at UNL she gained two year experience as a graduate research assistant at the Center for Advanced Land Management Technologies (CALMIT).
After graduation she worked as a geospatial analyst at the GIS Center for Excellence (GIScCE) at South Dakota State University. In April 2007 she started working as a radar and GIS analyst at the Institute of Photogrammetry and Remote Sensing at the Technical University in Wien, Austria.

In 2012 Marcela took up a post-doctoral research position at the European Space Agency.