Contact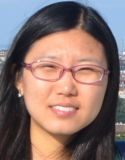 Dr. Xiaofei Chen
chen@waterresources.at
chen.xiaofei@craes.org.cn
Tel.: +86 15630919216
Chinese Research Academy of Environmental Sciences (CRAES)
Xiaofei Chen
Research Interests
• Climate change impacts and hydrological change
• Flow and transport processes
• Hydrologic uncertainty
• Catchment hydrological functioning

Xiaofei focuses on the study of summarizing catchment heterogeneity and variability in simplified models. She is interested in exploring dominant predictors of runoff variability, such as land use, soil properties, drainage density etc. In the context of regional climate change, it is important to explore why flooding has changed and how runoff is driven by different predictors. The method of multiple working hypotheses (MMWH) offers an established approach in which to develop and test hypotheses of change. Many studies have highlighted the utility of MMWH and in the context of hydrological change we assert that it has the potential to provide a more systematic approach to attribution.

Key Facts
Xiaofei obtained a bachelor degree in water conservancy and hydropower engineering at the Agricultural University of Hebei, China, in 2011. She then completed a Master of Science in hydrology and water resources at Hohai University, Nanjing, China. The thesis topic was "Evapotranspiration in Poyanghu River Basin based on remote sensing data", which gives a depiction on the validity and suitability of the model and additional, can effectively analyze and predict the runoff process in object basin, based on the program of " The cycle and security of water in the changing environment". Her doctoral research is focused on hydrologic principles and risk analysis.