Contact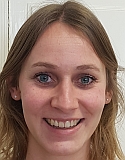 Marlies Barendrecht
barendrecht@waterresources.at
Tel.: +43-1-58801-406652
Centre for Water Resource Systems,
Vienna University of Technology,
Karlsplatz 13/222, A-1040 Vienna, Austria
Publications
Barendrecht, M.H., Viglione, A., Kreibich, H., Vorogushyn, S., Merz, B. and Blöschl, G. (2018) Estimating parameter values of a socio-hydrological flood model, Proc. IAHS, 379, 193-198, doi:10.5194/piahs-95-1-2018.
Marlies Barendrecht
Research Interests
• Socio-hydrology
• Flood risk
• Water resources management
Marlies is interested in the interactions between humans and water. Her bachelor thesis was on the irrigation practices of the Hohokam. She used archeological findings and a hydraulic model to try and determine how and why the Hohokam changed their irrigation practices. Her master thesis was on "the information gap between decision makers and scientists in the Eastern Nile countries". She conducted interviews with (former) decision makers in the field of water resources management in Egypt, Sudan and Ethiopia. She tried to determine what kind of information the decision makers use for their decisions and whether they use the information that comes from the models that have been developed by scientists from those countries as well as consultants from other countries. Marlies has studied engineering but has also developed a strong interest in the social side of water resources management. She now combines those interests in her research on flood risk, for which she studies the feedbacks in the human-flood system.


Key Facts
Marlies obtained a bachelor in Civil Engineering at Delft University of Technology, the Netherlands. She continued with a joined master degree in Water Resources Management and Hydraulic Engineering at Delft University of Technology and the National University of Singapore. In order to learn more about the social aspects of water resources management she participated in an international course on water issues and water management in the Philippines and followed some extra courses at UNESCO-IHE in Delft, the Netherlands.