Contact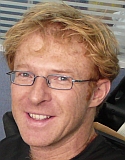 Univ.Prof. Dipl.-Ing. Dr.techn.
Koen Blanckaert
koen.blanckaert@tuwien.ac.at
Tel.: +43-1-58801-22230
Centre for Water Resource Systems,
Vienna University of Technology,
Karlsplatz 13/222, A-1040 Vienna, Austria
Institute of Hydrology and Water Resource Management,
Vienna University of Technology, Karlsplatz 13/222, A-1040 Vienna, Austria
Publications
Farhadi A, Sindelar C, Tritthart M, Glas M,Blanckaert K, Habersack H (2018) An investigation on the outer bank cell of secondary flow in channel bends. Journal of Hydro-Environment Research, 18(2), 1-11.
Blanckaert K, Heyman J, Rennie C (in press) Measurement of bedload sediment transport with an Acoustic Doppler Velocity Profiler. Journal of Hydraulic Engineering. 143(6), Article number 04017008.
More publications
- Orcid
Prof. Koen Blanckaert
Responsibilities
Koen Blanckaert is Professor of Hydraulic Engineering at the Institute of Hydraulic Engineering and Water Resources Management, Vienne University of Technology. He is currently teaching courses in Hydraulics and Hydraulic Structures.
Research Interests
Prof. Blanckaert's research is mainly situated in the fields of hydraulic engineering and environmental fluid mechanics. His research interests focus on flow processes and their interactions with hydrological, sediment transport, morphological, water quality, and ecological processes. His research interests range from basic research to applied research.
Prof. Blanckaert's core expertise is in experimental investigations in the laboratory and the field, and the development of new experimental techniques. Besides, he has also made contributions in theoretical modelling and numerical modelling.
One of Prof. Blanckaert's main objectives is linking science and engineering, by translating new knowledge into tools and methods used by engineers and water managers.
Key Facts
Prof. Blanckaert obtained a Master in Civil Engineering at Ghent University (Belgium) in 1995, obtained a "Diplôme d'Etudes Approfondies (MSc)" in Mechanical Engineering at Ecole Centrale Lyon (France) in 1997, and a PhD in Science at Ecole Polytechnique Fédérale de Lausanne (EPFL, Switzerland) in 2002.
From 2003 to 2009, Prof. Blanckaert was employed as senior scientist at EPFL (Switzerland). In parallel, he has established an headed the division "Water-Energy-Environment" of CERT engineering LTD, which is a leading consultant in civil and environmental engineering in the Swiss Alps. From 2010 to 2014, Prof. Blanckaert was visiting Professor at the Research Center for Eco-Environmental Sciences (RCEES) of the Chinese Academy of Sciences (CAS). In 2016, Prof. Blanckaert was again employed as senior scientist at EPFL, before joining the Hong Kong University of Science and Technology (HKUST) as Associate Professor in January 2017. In October 2017, he was appointed full professor in hydraulic engineering at the Vienna University of Technology.
Prof. Blanckaert has spent 11 months at Delft University of Technology (Delft, The Netherlands) and 7.5 months at the Leibniz Institute of Freshwater Ecology and Inland Fisheries (Berlin, Germany) as Visiting Senior Researcher. In January 2016, he was invited to the University of Ottawa (Ottawa, Canada) with a Fellowship for Distinguished Visiting Researchers.
Prof. Blanckaert is since 2016 Associate Editor of the Journal of Hydraulic Engineering - ASCE, and at present Editor of Special Issue "Water Resources and Environmental Fluid Mechanics: from the glacier to the lake/ocean" for the journal Water MDPI. In 2013, he was also Editor of the Special Issue "Ecohydraulics: linkages between hydraulics, morphodynamics and ecological processes in rivers" of the journal Ecohydrology (2013).