Contact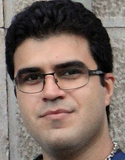 Dr. Abbas Kazemi Amiri
Research Associate at the University of Strathclyde, Glasgow, UK
Abbas Kazemi Amiri
Research Interests
• Structural vibration testing and inverse reconstruction of wind loads
• Stochastic wind response and stress cycle counting analysis
• Structural vibration protection against earthquake and wind
Abbas graduated from Vienna Doctoral Programme on October 2016. The title of his PhD thesis is "Inverse reconstruction of wind load and stochastic response analysis from sparse long-term response measurements". His research interests are not only limited to the theoretical issues in structural dynamics but also are broadened to cover the practical aspects and applications in laboratory and field testing. Within his PhD, Abbas was also involved in a couple of projects e.g. seismic behaviour evaluation of Okmeydani and Goeztepe hospital complex base-isolated by means of frictional bearing systems, Istanbul Turkey, together with MAURER AG, München.

In his Master, he studied seismic vulnerability of buildings and nonlinear static procedures for performance-based analysis under earthquake. After obtaining his master degree from the University of Mazandaran, Iran, Abbas moved to Vienna in late 2010 and spent almost a year on the advanced pre-doc studies at the Institute of Structural Mechanics and Dynamics, TU Vienna. At that time, his work focused on strengthening of vibration-prone structures by means of mechanical dampers.
His current postdoctoral research concerns stress cycle counting for wind fatigue analysis and stochastic wind response analysis from sparsely measured structural response assisted by wind speed data.


Key Facts
Abbas holds a PhD in Structural Mechanics and Dynamics from TU Vienna. He obtained a Master of Science in Structural Engineering and the bachelors degree in Civil Engineering from the University of Mazandaran, Faculty of Engineering (currently Babol University of Technology). His Master thesis topic was "Evaluation of nonlinear static procedures for seismic analysis of eccentrically braced frames". In parallel and following graduation, he trained students of civil engineering technician at Azad University of Amol, Iran, and worked as a construction supervisor in Sari, north of Iran, in a Structural and Road Construction Company (Rahnameh Niak Co.) for a couple of years.

Abbas has attended and presented at numerous international conferences and reviewed articles in Structural Engineering and Mechanics An international Journal, Journal of Inverse Problems in Science and Engineering and Journal of physics: Conference series.

Right after his graduation, Abbas is continuing his research as a post-doc fellow at TU Vienna.