Contact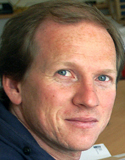 Dr. Alexander Eder
alexander.eder@baw.at
Tel.: +43-7416-52108-30
Fax: +43-7416-52108-90
Institute for Land and Water Management Research,
Pollnberstrasse 1, 3252 Petzenkirchen, Austria
Publications
Eder, A., Exner-Kittridge, M., Strauss, P. and Blöschl, G. (2014). Re-suspension of bed sediment in a small stream – results from two flushing experiments. Hydrol. Earth Syst. Sci., 18, 1043–1052. doi:10.5194/hess-18-1043-2014
Eder, A., Strauss, P., Krueger, T., Quinton, J.N. (2010). Comparative calculation of suspended sediment loads with respect to hysteresis effects (in the Petzenkirchen catchment, Austria). Journal of Hydrology 389, 168–176.
Alexander Eder
Research Interests
• Soil erosion sediment transport
• Hydrology of small catchments
Alexander has worked at the Federal Agency of Water Management (BAW) in the Institute for Land and Water Management Research (IKT) in Petzenkirchen, Lower Austria, since 2006. He is responsible for several projects concerning soil erosion and water protection and works as part of Dr. Peter Strauss' team. He is particularly involved with the instrumentation of the hydrological open air laboratory (HOAL) in Petzenkirchen and the hydrological classification of soils for Lower Austria. During previous projects he has investigated the different methods of measuring suspended sediment and developed plot irrigation tests. These irrigation tests focussed on the quantification of erosion rates under different management practices and on the influence of preferential flow pathways to tile drains in terms of water quality.

Key Facts
Alexander obtained a bachelors degree in Environmental Engineering at the University of Natural Resources and Applied Life Sciences in Vienna, Austria, in 2003. He then completed a Master of Science in Water Management and Environmental Engineering at the same University. His interest in soil physics and hydrology was developed during his internship in 2003 at the Institute for Land and Water Management Research, the place he now works. Alexander has attended and presented at numerous international conferences and is a member of the Austrian Soil Science Society.