Contact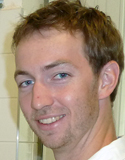 Dr. Lukas Egle
Strategic Controlling and Assistance in Waste Management and Material Flow Management, Municipal Department 48 - Waste Management, Vienna, Austria
Publications
Egle, L., Rechberger, H., Krampe, J. and Zessner, M. (2016). Phosphorus recovery from municipal wastewater: An integrated comparative technological, environmental and economic assessment of P recovery technologies. Science of The Total Environment 571, 522-542.
Egle, L. , Amann, A., Rechberger, H., Zessner, M. (2016) Phosphorus: a critical yet underused resource for sewage and waste management—available knowledge and outlook for Austria and Europe, Österreichische Wasser- und Abfallwirtschaft, Volume 68, Issue 3-4, pp. 118–133., DOI 10.1007/s00506-016-0295-6


Lukas Egle
Research Interests
• Wastewater and sludge treatment
• Nutrient recovery with focus on phosphorus from wastewater
• Nutrient pathways

Lukas is an environmental engineer who has worked on various projects concerning waste management. After completing his studies he moved to Vienna University of Technology where he started research on "nutrient (phosphorus) recovery from waste water". The aim of this topic is to identify potential phosphorus flows in Austria (detailed phosphorus balance) and conduct a technical, environmental and economic assessment of phosphorus recycling technologies worldwide. As part of his research he supervises a practical laboratory experiment on phosphorus recycling from sewage sludge. The aim is to identify phosphorus, heavy metal and organic pollutant flows during the recycling process.


Key Facts
Lukas obtained a master degree in Environmental Engineering and Water Management from the University of Natural Resources and Life Science in Vienna, Austria. His thesis title was "Organic Farming and its Impact to the Organic Soil Matter: Analysis with Infrared Spectroscopy". During his studies he worked for three years as a student assistant at the Institute of Waste Management at the University of Natural Resources and Life Science. In 2010 he joined the Institute of Water Quality, Resources and Waste Management at Vienna University of Technology.