Contact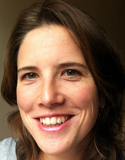 Dr. Linda A. Kuil
Consultancy, Waterschap Drents Overijsselse Delta, the Netherlands
Publications
Kuil, L., Carr, G., Viglione, A., Prskawetz, A., and Blöschl, G. (2016). Conceptualizing socio-hydrological drought processes: The case of the Maya collapse. Water Resource Research, 52(8), 6222-6242., doi: 10.1002/2015WR018298
Linda Kuil
Research Interests
• Water resource management
• Socio-hydrology
• Environmental economics

Linda has an academic background in the fields of hydrology and socio-environmental sciences. For her master thesis she studied the role of farm dams within a subcatchment of the Murray-Darling Basin, both from a hydrological perspective (what is the impact of farm dams on stream flow) and a social perspective (what role do farm dams play in society). The thesis was performed at the Australian Commonwealth Scientific and Research Organisation (CSIRO) in Canberra. For both her Bachelor and her Masters, she was encouraged to think across the borders of disciplines. In her PhD she continues to pursue this interdisciplinary way of thinking by combining hydrology, sociology and economics.
Key Facts
Linda obtained an Honors Bachelor of Science at the University College Utrecht (including a semester abroad at the University of California, Santa Cruz). She then completed a master in Transnational Ecosystem-based Water Management, a degree program that is an initiative of both the university of Duisburg-Essen and the Radboud University Nijmegen, the Netherlands. In order to obtain a sound basis in hydrology she took additional courses at the Free University of Amsterdam. After completing her masters degree she worked as a hydrologist at a consultancy company in Arhem, Netherlands, where she investigated the feasibility of underground thermal energy storage for projects. She joined the Vienna Doctoral Programme in October 2012 and is conducting her PhD in the new field of socio-hydrology. Her thesis on understanding the two-way interactions between water and society in water scarce settings from a systems dynamics perspective.