Contact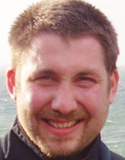 Dr. Michael Vetter
University of Innsbruck
Publications
Vetter, M., Höfle, B., Rutzinger, M., Mandlburger, G. 2011. Estimating changes of riverine landscapes and riverbeds by using airborne LiDAR data and river cross-sections. In: Pfeifer, N., Roncat, A., Stötter, J., Becht, M.: Laser Scanning Applications in Geomorphology. Zeitschrift für Geomorphologie/Annals of Geomorphology 55(2), 51-65.


Michael Vetter
Research Interests
• Airborne laserscanning
• Terrestrial laserscanning
• Remote sensing
• Geoinformatics
• Hydrology
Key Facts
Michael graduated from the Doctoral Programme in June 2013 with a PhD on "Terrain and land cover models from full-waveform LiDAR measurements for hydrological and hydraulic studies." The thesis developed novel methods for digital terrain model (DTM) modification, roughness classification and parametrization for hydraulic and hydrological studies.
Prior to this, he obtained his Diploma with honors in Geography at the University of Innsbruck in 2008 (supervised by Prof. Johann Stötter - Innsbruck, Prof. Norbert Pfeifer - Vienna, Dr. Bernhard Höfle - Heidelberg, Dr. Martin Rutzinger - Enschede). His Diploma thesis was entitled, "Punktwolkenbasierte Ableitung von Wasseroberflächen aus Airborne Laser Scanning Daten - Unter Verwendung von Radiometrie- und Geometrieattributen", within he developed a method to classify water surface using geometry and radiometric information of the 3D LiDAR (light detection and Ranging) point cloud. From October 2008 until the end of September 2009 he worked as a Project Assistant in two projects at the University of Innsbruck (Institute of Geography). The main focus of the projects was on an improved understanding of the use of airborne laser scanning (ALS) technology in glaciology and hydrology.
During his academic studies he started to work with laser scanning data and water and has produced several publications and given presentations at national and international conferences where he shows the ability to use ALS data to improve hydraulic and hydrological studies. He continues his research at the University of Innsbruck where he works as a post-doctoral researcher.