Contact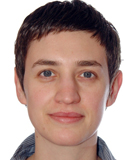 Dr. Ottavia Zoboli
ozoboli@iwag.tuwien.ac.at
Tel.: +43-1-58801-22633
Institute for Water Quality, Resources and Waste Management,
Vienna University of Technology,
Karlsplatz 13/226, A-1040 Vienna, Austria
Publications
Zoboli, O., Zessner, M, & Rechberger, H. (2016). Supporting phosphorus management in Austria: Potential, priorities and limitations. Science of the Total Environment, 565, 313-323. doi:10.1016/j.scitotenv.2016.04.171.
Zoboli, O., Laner, D., Zessner, M. and Rechberger, H. (2015). Added Values of Time Series in Material Flow Analysis: The Austrian Phosphorus Budget from 1990 to 2011. Journal of Industrial Ecology. doi: 10.1111/jiec.12381


Ottavia Zoboli
Research Interests
• Nutrients and Resource management
• Waste management
• Industrial ecology
• Water quality and river basin management, with specific focus on nutrients and priority substances

For her doctorate, Ottavia thoroughly investigated phosphorus (P) flows and stocks through anthropogenic and natural compartments in Austria. Her work has shown the importance of temporal variability in the national P budget and has demonstrated the manifold benefits that could derive from the integration of multi-year Material Flow Analysis in national monitoring systems. Her model was used to help prioritizing measures to enhance P governance and improvements in data collection schemes, as well as to design a target system. Further, the analysis of the patterns of P concentrations and loads in the Danube River from 1990 to 2013 suggests that the interplay between large floods, in-stream P pool and anthropogenic emissions is fundamental to understand and correctly interpret the effectiveness of environmental management measures.


Key Facts
Ottavia received her PhD from the Vienna Doctoral Programme in 2016 with her thesis on, "Novel approaches to enhance regional nutrients management and monitoring applied to the Austrian phosphorus case study". Upon graduating she took up a post-doc position at the Institute of Water Quality, Resource and Waste Management, where she is continuing her research on nutrients management, but also on emissions and pathways of priority substances in surface waters.

Prior to her PhD studies, Ottavia obtained a Master's degree in Environmental Science from the University of Parma, in Italy. The thesis topic was "Application of watershed modelling and GIS to the estimation of the nutrient loading in a shallow, semi-enclosed marine system of Northern Aegean, Eastern Mediterranean". Following graduation, she completed a Master of Water Science, Technology and Management at the Centre for Research and Technological Development, University of Salamanca, Spain and a course on Renewable Energy Consultancy, at the EOI Business School, Madrid, Spain. She then worked for international companies in the field of geothermal energy and bioenergy, with a focus on anaerobic digestion applied to industrial organic wastes.